I have been initiated into the secret 'Highest Yoga Tantra' tradition of Tibetan Buddhism where I swore never to reveal the secrets they shared with me but here I go again, as I did in Revealing the Secrets of Inner Fire Meditation as well, I am sharing this information with the public. I am breaking my vows of secrecy because this information is freely available everywhere on the internet through books by Tibetan lamas and other western teachers, also this information is not about someone else, I am not gossiping here, it is about you and perhaps one of the most universal subjects for humans; death.
The Tibetan Book of the Dead's author is Padmasambhava; the founder of Tibetan Buddhism in the 8th century when he brought the Buddhist teachings from India and introduced them and established the teachings into Tibet. Padmasambhava was not a traditional Buddhist he also brought with him a lot of esoteric tantric teachings from other traditions and now Tibetan Buddhism as we now know it is a mixture of traditional Buddhism, Hindu tantric teachings and the Bon tradition which was native to Tibet at the time.
The subject matter of The Tibet Book of the dead is about Six different Bardos or six state of consciousness where enlightenment is possible. There are three states of consciousness mentioned at death time, right at the time of dying, an intermediate state and the state just before taking a rebirth. Also three different bardos or states of consciousness during one's lifetime they are normal waking consciousness, dream consciousness and meditation consciousness. The bardo I would like to talk about in this blog is the time of death when the clear white light of death is revealed to be the enlightened state of consciousness Itself.
The white light at death has been commonly reported from people who have had near death experiences and have lived to tell their story. Some common factors are a tunnel like vision, feelings of deep peace and even bliss and also a sense of coming home to something familiar. Science struggles to explain such phenomena but explains these things as massive impulses of electricity at the time of death, but science finds it more difficult to explain the out of body experiences where patients have clearly retold of doctors conversations during the time when they were declared dead or even when the patients recounts the experiences of events happening in adjoining rooms. I won't go into this controversy here but this subject has fascinated me since the a was a child and now I have more information from learning about what the esoteric spiritual traditions of the east have to say.
The Tibetan Book of the dead outlines 8 stages of death where the vision of the blissful and clear white light is the last. These stage are what I would like to introduce readers to today. In the Tibetan tradition many Masters have said that this life is all a preparation for death time when enlightened is the easiest to attain. This is a huge reversal of perspective for most westerners where death is something often feared and thought about in terms of struggle, pain and suffering. What if the time of death was a time of beauty, transcendence and immeasurable bliss? What if we have lived hundreds if not thousands of times before and have never gotten our death 'right' and we keep having the chance to transcend time and time again but fail? This is the Buddhist perspective. And the time of death is extremely sacred and valuable.
Also it is very beneficial to know what's coming at the time of death so you do not panic or become fearful. the state of mind at the time of death is of utmost importance for your rebirth. The best state of mind is a calm and compassionate one. Here are some meditations to help a dying person.
Buddhist also reflect on these three things to help motivate them not to procrastinate on their death-time training:
"Death is certain. The time of death is uncertain. And only your spiritual practice can help you at the time of death."
The eight stages of death are the absorption of layers of consciousness down into the clear white light and are known as Dissolutions. Like a wave dying down back into the ocean. Or peeling layers of an onion. The first four dissolutions are associated with the four elements of earth, water, fire and air. The last four are inner dissolutions associated with ever increasing subtleties of consciousness.  They are all accompanied with different visions known as 'secret signs" but hopefully won't be secret for much longer. In the Highest Yoga Tantra practices I mentioned early all these stages are memorised and visualised daily as a form of preparation and practice for the time of death. Going through these stages also helps to master the time of death and be able to consciously choose to be reborn to continue to help all sentient beings as in the Mahayana teachings of a Bodhisattva. Also visualising going through the death process while you are alive helps to shed worldly concerns, reveal the foundation of clear light at the core of your being and arise from meditation 'reborn' as a being of pure light and love (Bodhisattva) and not of flesh.
8 Stages of Death
The Outer Dissolution: the Senses and the Elements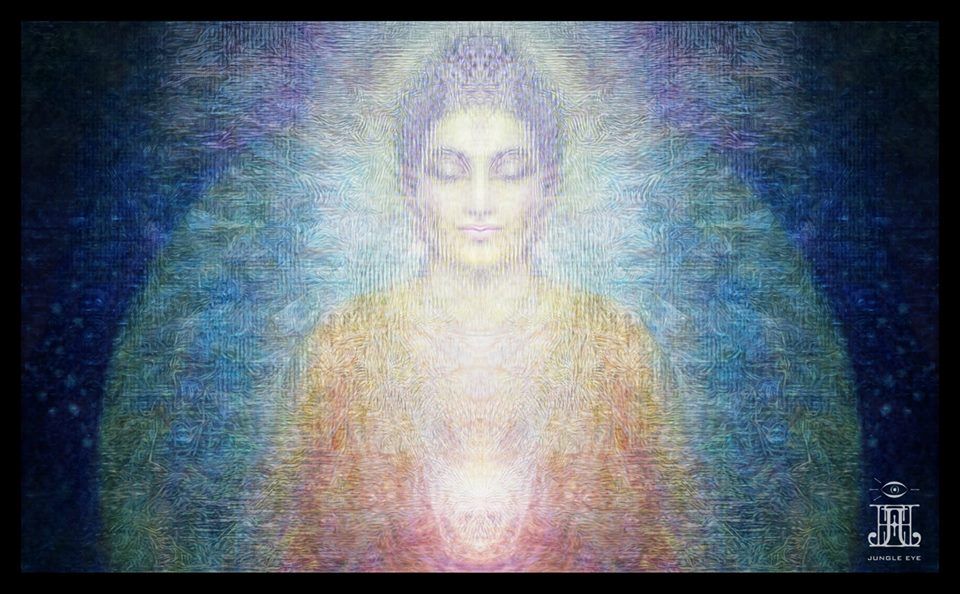 Artwork by Jungle Eye
Earth
Our body begins to lose all its strength. We are drained of any energy. We cannot get up, stay upright, or hold anything. We can no longer support our head. We feel as though we are falling, sinking underground, or crushed underneath a great weight. We feel heavy and uncomfortable in any position. We may ask to be pulled up, to have the pillows made higher, or for the bed-covers to be taken off. Our complexion fades and a pallor sets in. Our cheeks sink, and dark stains appear on our teeth. It becomes harder to open and close our eyes. As the aggregate of form is dissolving, we become weak and frail. Our mind is agitated and delirious but then sinks into drowsiness. These are the signs that the earth element is withdrawing into the water element. The "secret sign" that appears in the mind is that of a shimmering mirage.
Water
We begin to lose control of our bodily fluids. Our nose begins to run and we dribble. There can be a discharge from the eyes and maybe we become incontinent. We cannot move our tongue. Our eyes become dry in their sockets. Our lips are drawn and bloodless and our mouth and throat sticky and clogged. The nostrils cave in and we become very thirsty. We tremble and twitch. The smell of death begins to hang over us. As the aggregate of feeling is dissolving, bodily sensations dwindle, alternating between pain and pleasure, hot and cold. Our mind becomes hazy, frustrated, irritable and nervous. Some sources say that we feel as if we were drowning in an ocean or being swept away by a huge river. The water element is dissolving into fire, which is taking over in its ability to support consciousness. The secret sign is a vision of a haze with swirling wisps of smoke.
Fire